Barbara Abe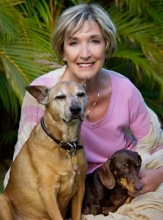 Barbara Abe
Gold Member
East Oahu Realty
6600 Kalanianaole Hwy
Honolulu, HI 96825

Phone: 808-226-2537
Cell: 808-226-2537
Fax: 808-396-2020
Email: Click Here
Website: Click Here

About Barbara Abe
Barbara Abe had a plan to see the world. She would start by moving from her native England to Hawaii as part of her company's global expansion. After establishing herself on the island, as the plan went, Barbara would go on to Australia and ultimately end up back in the U.K. A true adventurer, Barbara had already seen much of Europe and was incredibly excited about the opportunity to discover the other half of the world. But Barbara never made it back home. After a short time on the island, her perspective changed. For Barbara, it was clear she had found her ultimate destination.
When Barbara left England for Hawaii in 1970, she didn't intend to leave forever, but she never imagined the powerful lure the islands would hold for her. Barbara has lived on Oahu longer than she did in England, and yet the excitement of waking up each morning to a view of the ocean is as strong today as it was when she arrived. ""I have lived here so long, but every day I'm still amazed by the natural beauty,"" she says. "It seems every day I see something that takes my breath away."
Barbara brings the same enthusiasm and passion to her professional career. While the business she came to the island to manage did not succeed, Barbara has found success as a businesswoman and entrepreneur. She started an import and wholesale business in the 1980s that developed and distributed Hawaiian Heritage playing cards. The experience introduced her to the history of the Hawaiian monarchy which, given her English background, had a special interest for her. In addition to her rewarding career in real estate, Barbara operates a bed and breakfast with her mother, Joan. The business is a great way to help people connect with the island.

Real Estate Areas Served by Barbara Abe
Barbara Abe's Areas of Expertise
Helping buyers and sellers of residential real estate on Oahu, state of Hawaii, specializing in homes and condos.
Barbara Abe's Areas of Education
Several real estate designations and supplemental real estate education.
Interests
Helping the pet community on Oahu, building more pet parks and making sure services are provided for needy pets.
Community Involvement
Active in the British Commonwealth club on the island.