Bart Tipton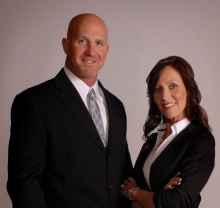 Bart Tipton
Gold Member
Majestic Properties/ Keller Williams
5351 Olive Dr 100
Bakersfield, CA 93308

Phone: 661-706-9401
Fax: 6616156555
Email: Click Here
Website: Click Here

About Bart Tipton
About UsBart and Tracey Tipton, founders of Majestic Properties, have been in service industries for most of their lives. They both have backgrounds in the medical field. Bart has a pharmacy degree from Drake University and has over 18 years of sales experience.

Their commitment to extraordinary customer service and ability to market effectively helped launch their previous business to the position of #1 pharmacy in the nation in its specialty. Tracey is actively involved in area schools and Parent Teacher Associations. She has worked with developmentally disabled children and has also been a doula (childbirth helper).


Real Estate Areas Served by Bart Tipton
Bart Tipton's Areas of Expertise
Majestic Properties is part of several nationwide networks of luxury home agents and unique marketing programs that work to give their clients the greatest advantage in completing their dream-home buying or selling experience. Commitment to our clients, creativity to achieve results, and ability to incorporate new technologies, coupled with our passion for serving clients in the luxury home market, are just a few reasons why Majestic Properties is the realtor group for you. Let us show you why we are the experts in bringing luxury home buyers and sellers together.


Community Involvement
Majestic Properties feels blessed to be in a position that allows us to give back to the communities we serve. We donate at least 5% of all earned, net commissions to the charity of our client's choice. We believe we can make a significant impact to better the communities in which we live. We encourage our clients to select the charity so they may also feel the joy of helping others.