Chris Thoman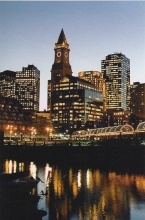 Chris Thoman
Gold Member
Otis & Ahearn
84 Atlantic Ave
Boston, MA 02110

Phone: 617-669-5847
Cell: 617-669-5847
Fax: 617-723-4952
Email: Click Here
Website: Click Here

About Chris Thoman
Mr. Thoman has been an active member of the real estate community in Boston for over 6 years. He has worked with a wide range of clients assisting them with buying, selling and renting real estate. He also has experience with property investors. Mr. Thoman has spent a few years working in the mortgage industry which has given him a broader prospective of real estate transactions. Mr. Thomanís trademark with his clients has been the level of quality service that he provides.
Real Estate Areas Served by Chris Thoman
Chris Thoman's Areas of Expertise
Chris specializes in both rentals & sales on Boston's Waterfront, the North End, Beacon Hill, and Charlestown.